One of my favorite composers is the great Czech Romantic composer, Antonin Dvorak [last name pronounced di-Vore-zshack]. While Bedrich Smetana is called the father of Czech music, Dvorak, born on September 8, 1841, is widely recognized as the greatest Czech composer. Dvorak was a prolific composer of many genres in the classical music repertoire, including symphonies, Slavonic Dances, operas, string quartets, concertos, serenades, et al.
Antonin Dvorak [1841 – 1904]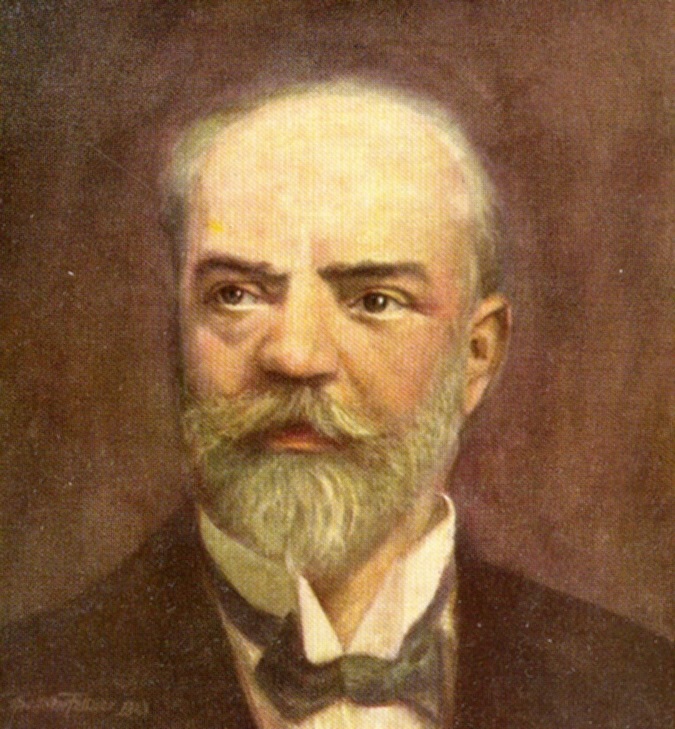 From the Britanica Biography of Antonin Dvorak:  "Antonín Leopold Dvořák, (born September 8, 1841, Nelahozeves, Bohemia, Austrian Empire [now in Czech Republic]—died May 1, 1904, Prague), first Bohemian composer to achieve worldwide recognition, noted for turning folk material into 19th-century Romantic music." …  "He came to know music early, in and about his father's inn, and became an accomplished violinist as a youngster, contributing to the amateur music-making that accompanied the dances of the local couples." 

"In 1857 a perceptive music teacher, understanding that young Antonín had gone beyond his own modest abilities to teach him, persuaded his father to enroll him at the Institute for Church Music in Prague." … "In [that same year] Dvořák was awarded a state grant by the Austrian government, and this award brought him into contact with Johannes Brahms, with whom he formed a close and fruitful friendship. Brahms not only gave him valuable technical advice but also found him an influential publisher in Fritz Simrock, and it was with his firm's publication of the Moravian Duets (composed 1876) … and the Slavonic Dances (1878) for piano duet that Dvořák first attracted worldwide attention to himself and to his country's music." …  "Dvořák accepted the post of director of the newly established National Conservatory of Music in New York in 1892, and, during his years in the United States, he traveled as far west as Iowa."  
"Bedrich Smetana, Dvořák's senior by 17 years, had already laid the foundations of the Czech nationalist movement in music, but it was left to Dvořák to develop and extend this in an impressive series of works that quickly came to rank in popularity with those of his great German contemporaries. The reasons for Dvořák's popularity lie in his great talent for melody and in the delightfully fresh Czech character of his music." … "Dvořák's technical fluency and abundant melodic inspiration helped him to create a large and varied output. He composed in all the musical genres and left works that are regarded as classics in all of them." 

"[Dvorak] was a humble and deeply religious family man of simple tastes and a great lover of nature."

To read this entire article from the Britanica Biography of Dvorak, please click here.

Antonin Dvorak is one of my favorite composers because so many of his rich melodic pieces are right up there in my favorites list.  Just some examples: Dvorak's Cello Concerto is considered one of the greatest cello concertos ever written and is my favorite cello concerto; I also love his Violin Concerto in A minor;  One of my favorite symphonies of all is Dvorak's 9th Symphony ["From The New World"];  Close behind his New World Symphony is his Symphony #8 in G-Major, with it's triumphant bold finale;  Dvorak's wind and string serenades are also two of my favorites in those genres;  and one of the greatest chamber music pieces ever composed is Dvorak's String Quartet in F-Major, known as the "American Quartet". 
Dvorak's pieces are filled with so many beautiful melodies and a pleasing vibrant sound and that is why his compositions are a favorite among so many concert goers. 

Please turn up the volume, play in full screen and enjoy some of the most beautiful music ever composed from this great Czech, and I think you will see why I consider Antonin Dvorak one of my favorite composers.
A. Dvorak: Serenade for Winds, Cello and Double-Bass in D-minor:
A. Dvorak: Serenade for Strings in E-Major:
A. Dvorak: Symphony #9 in E-minor, "From the New World", Movement 4, Allegro con Fuoco:
A. Dvorak: Symphony #8 in G-Major, Movement 4 Allegro ma non troppo:
A. Dvorak: Violin Concerto in A-minor, Movement 3, Allegro giocoso ma non troppo:
A. Dvorak: String Quaret in F-Major, "American":
A. Dvorak: Cello Concerto in B-minor:
Happy Birthday #180 Antonin Dvorak, the great Czech mate!