To everyone I wish a wonderful, blessed Happy Thanksgiving!

Thanksgiving is a distinctly American holiday on which we recognize all of our wonderful blessings from God.  So, on this Thanksgiving week I would like to highlight the late American classical composer, Aaron Copland.   

Aaron Copland is one of those blessings to whom Americans give thanks for.   He brought an American style to his classical compositions and is sometimes referred to as the "dean of American composers". 
Aaron Copland [November 14, 1900 – December 2, 1990]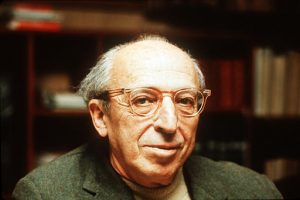 One of Copland's greatest compositions is "Appalachian Spring". Appalachian Spring is an orchestral suite that was composed for a ballet.  Copland inserts into this suite an early American Shaker hymn known as "Simple Gifts".  Copland brings out the ultra beauty of this hymn with his orchestral arrangement.

Along with a You Tube version of an orchestral version of "Simple Gifts", enjoy from this great American composer his "Fanfare for the Common Man", and also the energetic "Hoe-Down" from Copland's ballet Rodeo. 

Please turn up the sound put in full screen and enjoy this great American composer, Aaron Copland on this American Holiday week.
Aaron copland: "Simple Gifts" From Appalachian Springs:
Aaron Copland: Fanfare for the Common Man:
Aaron Copland: "Hoe-Down" from Rodeo:
To all I wish on this Thursday Nov. 25, 2021 a very