One of my favorite classical music pieces of all, is the "enigma variations on an original theme" by England's great composer during the Romantic Era, Sir Edward Elgar. It contains one of the most beautiful movements in the classical music genre, the "Nimrod" variation.
Edward Elgar [June 2, 1857 – January 23, 1934]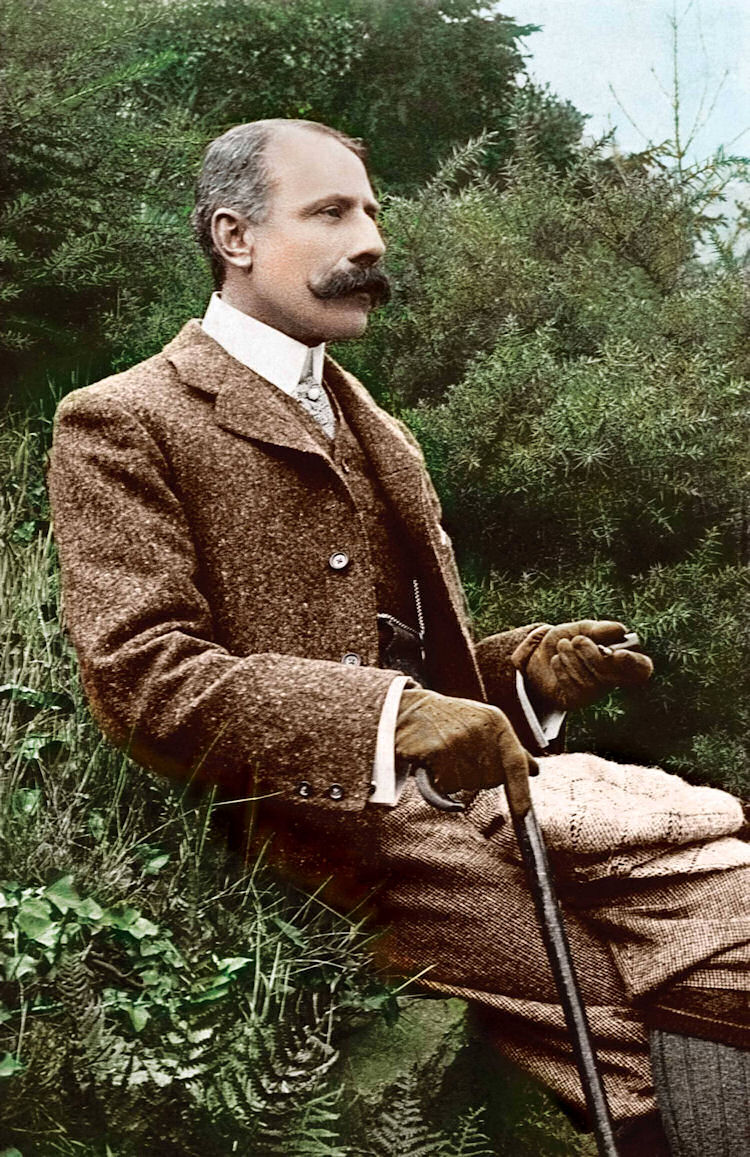 From the Elgar Biography Site: "Edward Elgar was born on June 2, 1857, in Broadheath, near Worcester, where his father named William Elgar, was a music shop owner and a piano technician." "Unrestricted by rules of "teaching", he remained highly original in developing his unique musical personality, that allowed him to surpass the other leading composers of his time." "In 1889 Elgar married his student, Alice Roberts, daughter of the late General Sir Henry Roberts." "Edward Elgar became Sir Edward Elgar when he was knighted at Buckingham Palace on July 5, 1904."
From Wikipedia-Enigma Variations: "Edward Elgar composed his Variations on an Original Theme, Op. 36, popularly known as the Enigma Variations, between October 1898 and February 1899. It is an orchestral work comprising fourteen variations on an original theme. Elgar dedicated the work "to my friends pictured within", each variation being a musical sketch of one of his circle of close acquaintances."
Many musicologists have tried to figure out what the original enigma theme meant. Even these many years later, I don't think there has been a consensus view of the meaning of the enigma theme. Sir Edward Elgar purposely never did disclose it's meaning, so each listener would listen and try to discover for themself what they thought it meant.
I think I may be alone in this but ever since I first heard this beautiful piece, whenever I heard the original theme, I kept hearing in my mind, "you don't know me." And it has been that way for me still to this day.
Without further ado, please turn up the volume and enjoy Sir Edward Elgar's Enigma Variations on an Original Theme. Then enjoy again the "Nimrod Variation".
Edward Elgar: Enigma Variations on an Original Theme:
Edward Elgar: Nimrod Variation:
Thank you Sir, Edward Elgar that is, for your iconic Enigma Variations.